---
About Holiday House
---

Since 1986, Holiday House has helped provide gifts and food to Clover Park Technical College students and their families. The first year provided 25 families with food for the holidays; over the years, Holiday House has grown from shopping in bulk to providing toys to more than 80 families a year.
Donated gifts and funds for Holiday House directly support the children of students who are attending school to make a better future for their family. The direct impact of this project has helped 4,074 children, and generated $259,062 in support for 2,184 families of students over the past 32 years.
Each year, the CPTC Foundation and the Holiday Helpers committee reach out to local businesses and community members to see if they might be willing to donate items for raffle/auction prizes to help fundraise for our annual Holiday House campaign. In addition, the Holiday Helpers committee seeks businesses and community members willing to sponsor a family with gifts for the holiday season
Although Holiday House is held in late November/early December, we try to reach out in advance so that business owners have time to send in their tax deductible donations prior to the start of the holiday season.
Your support will help students and their families during the holiday season with gifts. Without the support of individuals like yourself, our students may feel forgotten in the challenges they are experiencing balancing college and its financial costs. Please help our students have a special holiday this year.
---
About Clover Park Technical College Foundation
---
Donations made to Clover Park Technical College Foundation, a local non-profit organization that supports CPTC are tax deductible. Please consider supporting Holiday House, as our community is the heart of our Foundation. Donations of cash or a raffle item/auction prize can be sent to the CPTC Foundation. Raffle items/auction prizes will be used to raffle off at our holiday fundraiser to help raise additional funds for Holiday House. Cash will be used to provide holiday gifts for children of our students. Please download our non-cash donation form below.
Suggested Donation Items:
Cash to assist with purchasing gift cards or holiday gifts.
Raffle items or baskets that can be raffled off to fundraise for Holiday House.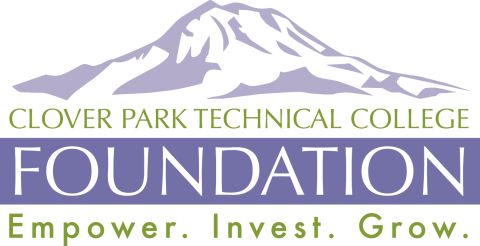 ---
Office Hours
The CPTC Foundation office is located in Building 19, room 101 on the  Lakewood campus
Monday – Friday: 8:00 a.m. – 4:30 p.m.
Contact us
foundation@cptc.edu
253-589-6082
---
Foundation Staff
Cathy Purcella
Foundation Executive Director
cathy.purcella@cptc.edu
253-589-5545
Kenzie Armstrong
Foundation Associate
kenzie.armstrong@cptc.edu
253-589-6083
Tanya Petrov
Foundation Accountant
tanya.petrov@cptc.edu
253-589-5683
---
Learn more about us: