The CPTC Foundation is a 501(c)(3) non-profit that works to raise charitable contributions in support of Clover Park Technical College. All gifts to the CPTC Foundation are fully deductible to the extent allowed by federal law. Contributions can be made in a variety of ways and used to enhance the programs and services that make CPTC a leader among technical colleges. Please visit our donation page to make a gift now. Thank you for your support of Clover Park Technical College!
---
Giving Opportunities:
---
Area of Greatest Need
The CPTC Foundation has more than 100 accounts to support scholarships, emergency assistance, programs, students, staff and faculty. Donors who wish to make the greatest impact may choose to donate toward the Area of Greatest Need. Funds are directed by the CPTC Foundation Board of Directors, as needed, to the most pressing needs that emerge, which include support for scholarships, emergency assistance, and vital support to CPTC and its students.
Support Funds
The CPTC Foundation provides emergency support through a variety of different assistance programs. For a complete list of all emergency support funds, please contact the CPTC Foundation office at 253-589-6082.
Student Emergency Assistance Program: The Student Emergency Assistance Program (SEAP) provides up to $250 for an immediate non-academic need (rent, utilities, medical, transportation, childcare, etc.) deterring success at CPTC.
Emerging Butterflies: Support to the Emerging Butterflies program provides emergency assistance for the Hayes Child Development Center for purchase of emergency supplies for children enrolled at the Hayes Center.
Emerging Needs – Programs: Keeping our programs current and relevant, these funds are allocated based upon a list of needs determined by college leadership. Contact the Foundation office for more information or to make a gift to support the needs of CPTC.
Faculty/Staff Development: These funds provide faculty/staff with resources to participate in professional development activities, allowing them to exchange knowledge, keep teaching industry skills current, integrate technology, and enrich their classrooms.
Ways of Giving
Secure one-time or recurring gifts may be made online.
Checks can be made payable to CPTC Foundation. Please mail to:
CPTC Foundation
4500 Steilacoom Blvd SW
Lakewood, WA 98499-4004
Lakewood Campus, Building 19, Room 101 (M-F 8:00 AM – 4:30 PM)
There are two ways you can gift an automobile. The first is through a direct gift to the Automotive program at CPTC. Gifts of automobiles may be given to the automotive program to be used as teaching tools. To learn more, contact the automotive program directly at 253-589-6044. Automobiles may also be donated through our partner nonprofit CARS, which will pick up and sell the automobile and direct the proceeds to the CPTC Foundation. Donate online here or call toll-free (855) 500-7433 to arrange a junk car removal and donation to benefit the CPTC Foundation.
In-kind gifts of personal property — supplies, equipment, and materials for the college— may be donated through the CPTC Foundation. Personal property donations generally are donated to be used within a specific program. To make donations of property, contact the specific program to gain approval for this gift in advance.
WA State Combined Fund Drive
WA State and higher education employees may make gifts through the Combined Fund Drive at their place of employment or at cfd.wa.gov.
CPTC Staff & Faculty Payroll Deduction
CPTC faculty and staff may have gifts deducted automatically from each paycheck by filling out a payroll deduction form.
Individuals with appreciated stocks often find these types of gifts have significant favorable tax incentives versus cash.
Instructions for Stock Transfer
These instructions are used exclusively for the transfer of U.S. stock and bond gifts to CPTC. To transfer mutual funds, foreign stocks, physical certificates, or any other gifts that may require special instructions, please contact the CPTC Foundation office at 253-589-6082. Give your stock broker the following information. If there are questions, have them contact the Foundation Office at 253-589-6082.
Pershing LLC
DTC# 443
HT3-090619
CPTC Foundation
Tax ID 91-1565219
Estate and Planned Giving**
A planned gift is a lasting investment in Clover Park Technical College Foundation, advancing our mission and ensuring our ability to respond to the challenges we will face in the future, as we have done for more than 25 years. From making a bequest to naming Clover Park Technical College Foundation as a beneficiary on your life insurance or IRA, there are many ways to support the college you love through legacy giving. We invite you to strengthen your commitment by considering one of the tax-advantaged giving opportunities below.
Gifts of Real Estate
Bequests through will or living trust
Charitble remainder trusts
Charitable lead trusts
IRA beneficiary (IRA, 401(k) or other qualified plans)
Life insurance beneficiary
Closely held or restricted securities
Mutual fund shares
Appreciated securities (stocks, bonds, mutual funds)
Cash
Life income gifts
Planned gifts include provisions made in donors' wills, gift annuities and the establishment of various trust vehicles. Often planned gifts are used to establish future named endowment funds. For many alumni and friends of CPTC, a charitable planned gift is the easiest and best way to make a gift to CPTC. By means of your will or estate plan, you can name Clover Park Technical College as the beneficiary of a portion of your estate, or of particular assets in your estate. Many of the most powerful gifts with an enduring impact come from bequests. Giving by bequest costs nothing now, yet it may give you a great deal of satisfaction to know that your future gift will live on. A gift through a will is the simplest method for creating a legacy type of gift. Gifts are also accepted from charitable trusts, annuities, and life insurance.
The CPTC Foundation is partnered with Amazon Smile and Fred Meyer Community Rewards. When you link your accounts to our organization, a portion of your purchase is donated to our Foundation. Find out more information by visiting our Amazon Smile page, or our Fred Meyer Community Rewards page. You can also choose to give through the PayPal Giving Fund. The process takes just a couple of minutes to set up and makes a lasting impact on CPTC and its students.
Many employers sponsor matching gift programs and will match contributions made to CPTC by their employees. If your or your spouse's company has a matching gift program, please request a matching gift form from the company and send us the completed form with or following your gift. If the employer uses an online matching gift site, please send your gift to us and visit the company's website to request that a matching gift be made.
**Contributions are fully deductible to the extent allowed by federal law. Gifts qualify for deductions and credits in the calendar year they are given. The CPTC Federal Tax Identification Number is 91-1565219.
---
Gifting Scholarships:
---
Donors work with the CPTC Foundation to help establish ongoing or one-time scholarships to support students at Clover Park Technical College. Scholarships from the CPTC Foundation provide financial assistance for educational expenses, including tuition, fees, books, and program supplies. Through the support of generous donors just like you, our general, named, and endowed scholarships have provided more than 1,700 students with over $1,042,000 in scholarship awards since 2005.
Types of Scholarships
General Scholarships: Gifts of any size may be made to the General Scholarship Fund. The General Scholarship Fund awards merit scholarships and scholarships in high-need areas. Donations can be made at any time. For more information on ways to give, please visit our Ways to Give page under the Community Info tab.
Named Scholarships: Gifts of $2,400 (equal to 4 $600 scholarships, to be paid over two years) may be made one time to fund a named scholarship. After the initial donation is made, the CPTC Foundation requires an annual donation of at least one quarterly scholarship ($600) to keep the named scholarship account active. Donors may name the scholarship and suggest additional criteria. Donors will receive a thank you letter from scholarship recipients. This type of scholarship can be made as a one-time gift or on an annual basis.
Endowed Scholarships—gifts of $12,000 or more* may be endowed with investment earnings to fund scholarships in perpetuity. Donors may name the scholarship and suggest additional criteria. Donors will receive a thank you letter from scholarship recipients. Donors will receive an endowment report annually in the spring, detailing annual investment performance and expenditures. Endowments are managed using the Foundation's Investment Policy and expended using the Foundation's Endowment Expenditure Policy. Copies are available upon request. *Gifts to endowed scholarships may be given over a five-year period. Funds will be held in a dedicated account and invested after the minimum $12,000 is received. With a $12,000 gift, the endowed scholarship is established; no scholarships will be distributed until $12,000 has been received.
Please contact the CPTC Foundation at 253-589-6082 for more information on establishing a scholarship.
General Information
Basic Eligibility—scholarships are for full-time Clover Park Technical College students taking credit courses and pursing degrees and certificates. Unless specified by the donor, all scholarships require a minimum cumulative GPA of 2.0 or higher to demonstrate satisfactory academic progress. Students must not have a federal loan in default. Some scholarships may have additional criteria including, minimum grade point average, specific area of study, financial need, etc. as required by the donor.
Awards—most scholarship awards are for $600 for one-quarter. Applicants may apply for a scholarship each quarter they continue to meet eligibility requirements, but will not be awarded more than one scholarship per quarter.
Applications Process—scholarships are awarded quarterly via an online application process.
Scoring—applications are reviewed and scored by the Scholarship Committee, consisting of volunteers from the Clover Park Technical College Foundation Board of Directors, alumni, and the community. Each application is scored by multiple reviewers. Scholarships are then awarded top-score down, based on eligibility requirements. Scoring is based on potential for success using information in the following areas: Campus & Community Involvement, Personal Achievement, Education and Career Goals & Plans, Ability to Overcome Challenges, Applicant Diversity, and Academic Achievement. Scores are derived primarily from assessment of student narrative statements.
---
Fred Meyer Rewards:
---
SIGN UP FOR THE COMMUNITY REWARDS PROGRAM BY LINKING YOUR FRED MEYER REWARDS CARD TO THE CPTC FOUNDATION
The CPTC Foundation is now registered as a charitable partner with Fred Meyer's Community Rewards Program! Fred Meyer donates over $2 million per year to non-profits in Alaska, Idaho, Oregon, and Washington, based on where their customers tell them to give.
Sign up for the Community Rewards program by linking your Fred Meyer Rewards Card to CPTC Foundation at www.fredmeyer.com/communityrewards. You can search for us by our name or by our non-profit number FT401. Then, every time you shop and use your Rewards Card, you are helping the CPTC Foundation earn a donation!
You still earn your Rewards Points, Fuel Points, and Rebates, just as you do today. If you do not have a Rewards Card, they are available at the Customer Service desk of any Fred Meyer store. For more information, please visit https://www.fredmeyer.com/i/community/community-rewards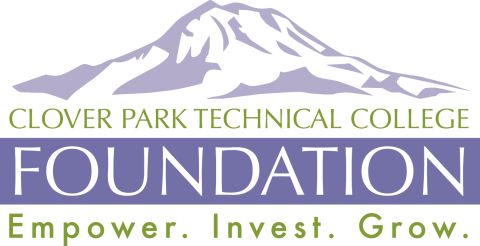 Office Hours
The CPTC Foundation office is located in Building 19, room 101 on the  Lakewood campus
Monday – Friday: 8:00 a.m. – 4:30 p.m.
Contact us
foundation@cptc.edu
253-589-6082
 
Foundation Staff
Cathy Purcella
Foundation Executive Director
cathy.purcella@cptc.edu
253-589-5545
Kenzie Armstrong
Foundation Associate
kenzie.armstrong@cptc.edu
253-589-6083
Tanya Petrov
Foundation Accountant
tanya.petrov@cptc.edu
253-589-5683
Learn more about us: