Once you attend Clover Park Technical College you will always be part of this family!
We stay connected with more than 25,000 members of our (your!) alumni network. Join us at events on campus. Volunteer as a mentor, or in numerous other essential and rewarding ways. Support CPTC with a gift of any amount, at any time. We are excited to be reaching new heights together.
---
Gifting Scholarships:
---
Donors work with the CPTC Foundation to help establish ongoing or one-time scholarships to support students at Clover Park Technical College. Scholarships from the CPTC Foundation provide financial assistance for educational expenses, including tuition, fees, books, and program supplies. Through the support of generous donors just like you, our general, named, and endowed scholarships have provided more than 1,700 students with over $1,042,000 in scholarship awards since 2005.
Types of Scholarships
General Scholarships: Gifts of any size may be made to the General Scholarship Fund. The General Scholarship Fund awards merit scholarships and scholarships in high-need areas. Donations can be made at any time. For more information on ways to give, please visit our Ways to Give page under the Community Info tab.
Named Scholarships: Gifts of $2,400 (equal to 4 $600 scholarships, to be paid over two years) may be made one time to fund a named scholarship. After the initial donation is made, the CPTC Foundation requires an annual donation of at least one quarterly scholarship ($600) to keep the named scholarship account active. Donors may name the scholarship and suggest additional criteria. Donors will receive a thank you letter from scholarship recipients. This type of scholarship can be made as a one-time gift or on an annual basis.
Endowed Scholarships—gifts of $12,000 or more* may be endowed with investment earnings to fund scholarships in perpetuity. Donors may name the scholarship and suggest additional criteria. Donors will receive a thank you letter from scholarship recipients. Donors will receive an endowment report annually in the spring, detailing annual investment performance and expenditures. Endowments are managed using the Foundation's Investment Policy and expended using the Foundation's Endowment Expenditure Policy. Copies are available upon request. *Gifts to endowed scholarships may be given over a five-year period. Funds will be held in a dedicated account and invested after the minimum $12,000 is received. With a $12,000 gift, the endowed scholarship is established; no scholarships will be distributed until $12,000 has been received.
Please contact the CPTC Foundation at 253-589-6082 for more information on establishing a scholarship.
General Information
Basic Eligibility—scholarships are for full-time Clover Park Technical College students taking credit courses and pursing degrees and certificates. Unless specified by the donor, all scholarships require a minimum cumulative GPA of 2.0 or higher to demonstrate satisfactory academic progress. Students must not have a federal loan in default. Some scholarships may have additional criteria including, minimum grade point average, specific area of study, financial need, etc. as required by the donor.
Awards—most scholarship awards are for $600 for one-quarter. Applicants may apply for a scholarship each quarter they continue to meet eligibility requirements, but will not be awarded more than one scholarship per quarter.
Applications Process—scholarships are awarded quarterly via an online application process.
Scoring—applications are reviewed and scored by the Scholarship Committee, consisting of volunteers from the Clover Park Technical College Foundation Board of Directors, alumni, and the community. Each application is scored by multiple reviewers. Scholarships are then awarded top-score down, based on eligibility requirements. Scoring is based on potential for success using information in the following areas: Campus & Community Involvement, Personal Achievement, Education and Career Goals & Plans, Ability to Overcome Challenges, Applicant Diversity, and Academic Achievement. Scores are derived primarily from assessment of student narrative statements.
---
Fred Meyer Rewards:
---
SIGN UP FOR THE COMMUNITY REWARDS PROGRAM BY LINKING YOUR FRED MEYER REWARDS CARD TO THE CPTC FOUNDATION
The CPTC Foundation is now registered as a charitable partner with Fred Meyer's Community Rewards Program! Fred Meyer donates over $2 million per year to non-profits in Alaska, Idaho, Oregon, and Washington, based on where their customers tell them to give.
Sign up for the Community Rewards program by linking your Fred Meyer Rewards Card to CPTC Foundation at www.fredmeyer.com/communityrewards. You can search for us by our name or by our non-profit number FT401. Then, every time you shop and use your Rewards Card, you are helping the CPTC Foundation earn a donation!
You still earn your Rewards Points, Fuel Points, and Rebates, just as you do today. If you do not have a Rewards Card, they are available at the Customer Service desk of any Fred Meyer store. For more information, please visit https://www.fredmeyer.com/i/community/community-rewards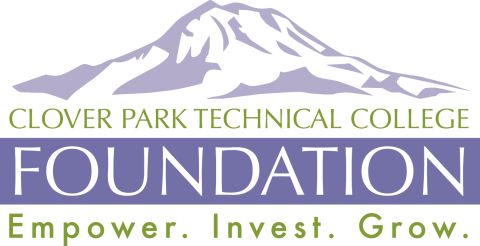 ---
Alumni Award Winners
2020 Distinguished Alumni of the Year
Marvin Merton, Nursing program
2020 Alumni of Distinction
Dan Tice, LPN program
Kenneth Hart, Medical Histology Technician program
Andy Osborn, Automotive program
Justine Wiggins, Interior Design program
2019 Distinguished Alumni of the Year
Dave Morell, Automotive program
2019 Alumni of Distinction
Kellie Kirkpatrick-Jacobs, Human Services program
Adam Carollo, Professional Pilot program
Geoff Waits, Architectural Engineering Design program
Cathy Hamilton-Wissmer, Environmental Sciences program
Office Hours
The CPTC Foundation office is located in Building 19, room 101 on the  Lakewood campus
Monday – Friday: 8:00 a.m. – 4:30 p.m.
Contact us
foundation@cptc.edu
253-589-6082
 
Foundation Staff
Cathy Purcella
Foundation Executive Director
cathy.purcella@cptc.edu
253-589-5545
Kenzie Armstrong
Foundation Associate
kenzie.armstrong@cptc.edu
253-589-6083
Tanya Petrov
Foundation Accountant
tanya.petrov@cptc.edu
253-589-5683
Learn more about us: