My Clover Connection (MyCC) is where CPTC students can manage their schedules, finances, transcripts and personal info.
Connect with us now! Visit cptc.edu/virtual to see how.
See when you can register at https://services.cptc.edu/RegistrationDate/.
Review the Learning Plan to see which classes are in-person, online, or a mix of both next quarter.
---
SECURE PAPERWORK DROP BOX
The paperwork drop box is for students to drop off financial aid, registration, admissions and/or veterans office paperwork. Please do not use it to submit homework for classes.
The drop box is located just outside Building 17 near the overhang, to the right of the main building entrance. Accessible 24 hours a day, the contents are secured and picked up daily.
Image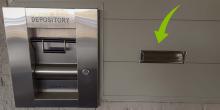 ---
ENROLLMENT SERVICES
Most services for current CPTC students are available online — you can get your schedule, check your grades, and plan and register for next quarter's classes.
---
FINANCIAL AID & PAYING FOR COLLEGE
Remember, our online fees system accepts only credit cards, not debit cards. For the best experience, use Internet Explorer to access the online payment system. For student aid or scholarship questions, visit the financial aid pages.
---
ADVISING & COUNSELING
The Advising and Counseling Office provides support and direction to help students meet their academic and career goals.
---
TRANSCRIPTS & GRADUATION
Unofficial Transcripts
Unofficial transcripts have grade information for CPTC students who attended after 1994. Official transcripts are $10.00 each.
---
CANVAS, STUDENT EMAIL & WI-FI
Student email is hosted on O365. Still need help after reviewing these links? Call the Library Computer Lab at 253-589-5820.
Did you make sure you have the "s" in "students" for your email address? Format: current student email addresses: [username]@students.cptc.edu.
---
MANAGING YOUR CONTACT INFORMATION
Keep your contact info up-to-date to hear about opportunities and important information. Changing your PIN is a good idea if you think your old one has been compromised.