Financial Aid at CPTC
When you invest in your education at CPTC, you invest in yourself and your future success. The skills and training you receive add real, significant value to your employment and educational opportunities. If you think you might have difficulty paying for your education at CPTC, we encourage you to apply for financial aid.
Priority Processing Deadlines
To ensure that all requirements are met, students should apply at least three months before the quarter they want to start school.
All required items shown in the Student Tasks on the Student Homepage of CTC link (for example Data Sheet, Verification Worksheet, IRS 1040 tax return form, etc.) must be submitted to the Financial Aid Office. Applications for financial aid are processed in the order received on a rolling basis.
*Processing may take up to 13 weeks. Students should plan to cover their educational costs until their file is awarded. 
In order for a tuition hold to be placed on a student's account, students must have a completed Financial Aid file 3 weeks prior to the published tuition due date.
Financial Aid applications are not considered complete until a Valid FAFSA/WASFA application has loaded into CTC link and all of the checklist items listed in your CTC link "To Do's" have been submitted/resolved. Items may include:
23-24 Institutional Form
Verification forms (V1,V4,V5)
Tax documents
Copy of high school diploma or GED
Proof of citizenship
Non completion of checklist items will stop your application from processing.
Past priority processing deadlines may be in that year's Academic Catalog. 
NOTICE: Students who do not complete their financial aid files by the deadlines above are responsible for payment of their tuition/fees and any books/supplies/tools that are needed before their file is awarded.
For other payment options such as the tuition installment plan or Workforce Education funding, please visit Ways to Pay For CPTC.
Navigation: Student Homepage
1.    Select the Tasks tile.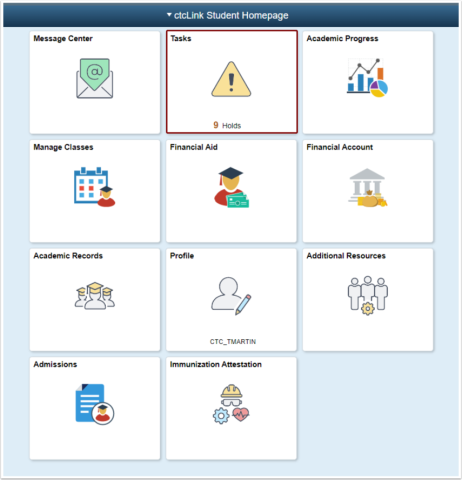 2.    The To Do List page displays.
3.    Select a Task to view its details.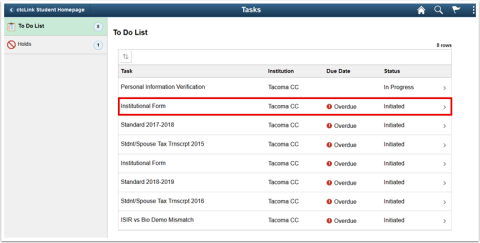 4.    The Task Details page displays.  Review it.
5.    Select the X to close the page.
PAPERWORK DROP BOX
---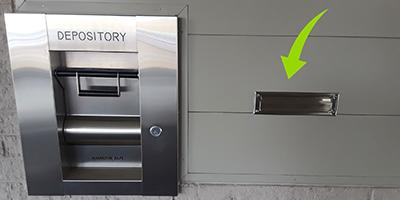 For your convenience, a secure drop box to drop off your financial aid, registration, admissions and veterans office paperwork is available just outside of Building 17.
Located near the overhang, to the right of the main building entrance, contents are picked up daily from a secure location inside the building. Please don't drop your homework in here. It won't get where it needs to go.
APPLY FOR FINANCIAL AID
---
To ensure that all requirements are met, students should apply at least three months before the deadline for the quarter they want to start school, or two weeks at the very minimum. If you're interested in applying for student loans to assist with the cost of attendance, be sure to complete the Direct Stafford Loan required counseling(s) and sign a Master Promissory Note.
REQUIREMENTS
---
To receive financial aid you must meet basic eligibility requirements and academic progress standards. To pay in-state tuition rates you must meet Washington residency requirements.
RESOURCES
---
We provide tools to figure out what type of financial aid you should pursue and to estimate how much your CPTC education will cost.
SCHOLARSHIPS & GRANTS
---
In addition to grants offered through Financial Aid, many scholarships are available through community organizations and service groups.
At CPTC
Outside of CPTC