Important Financial Aid Announcement 8/10/2022
Due to the transition to ctcLink, determination of financial aid eligibility for Summer/Fall Quarter students has been delayed.
Students who have applied for financial aid by the posted priority deadlines (Summer: 4/4/2022 and Fall: 6/17/2022) are actively being processed and will have their classes placed on hold to prevent them from being dropped for non-payment. Students may continue attending classes while the Student Aid & Scholarships office reviews their files to determine financial aid eligibility.
Students who did not meet the posted deadlines, which includes submission of any additional requested documents, must plan accordingly to purchase books and required supplies for their classes.
If you are in need of additional resources, please visit our Workforce Development office.
Check out CPTC's other funding options
You can access information about your aid application and financial awards by viewing your financial aid tile in CTC link. Thank you for your patience and understanding as we transition to the new state-wide technology system.
Financial Aid at CPTC
When you invest in your education at CPTC, you invest in yourself and your future success. The skills and training you receive add real, significant value to your employment and educational opportunities. If you think you might have difficulty paying for your education at CPTC, we encourage you to apply for financial aid.
Priority Processing Deadlines
To ensure that all requirements are met, students should apply at least three months before the deadline for the quarter they want to start school, or two weeks at the very minimum.
All required items shown in the Financial Aid Student Portal (for example Data Sheet, Verification Worksheet, IRS 1040 tax return form, etc.) must be submitted to the Financial Aid Office no later than 5:00 pm on the priority processing deadline dates. Past priority processing deadlines for the 2020-2021 academic year may be in the Academic Catalog. 
NOTICE: Students who do not complete their financial aid files by the deadlines above are responsible for payment of their tuition/fees and any books/supplies/tools that are needed before their file is awarded.
For other payment options such as the tuition installment plan or Workforce Education funding, please visit Ways to Pay For CPTC.
PAPERWORK DROP BOX
---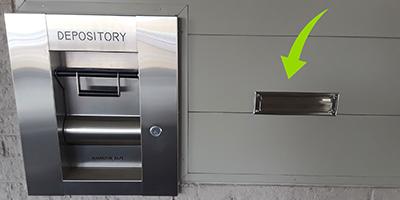 For your convenience, a secure drop box to drop off your financial aid, registration, admissions and veterans office paperwork is available just outside of Building 17.
Located near the overhang, to the right of the main building entrance, contents are picked up daily from a secure location inside the building. Please don't drop your homework in here. It won't get where it needs to go.
APPLY FOR FINANCIAL AID
---
To ensure that all requirements are met, students should apply at least three months before the deadline for the quarter they want to start school, or two weeks at the very minimum. If you're interested in applying for student loans to assist with the cost of attendance, be sure to complete the Direct Stafford Loan required counseling(s) and sign a Master Promissory Note.
REQUIREMENTS
---
To receive financial aid you must meet basic eligibility requirements and academic progress standards. To pay in-state tuition rates you must meet Washington residency requirements.
RESOURCES
---
We provide tools to figure out what type of financial aid you should pursue and to estimate how much your CPTC education will cost.
SCHOLARSHIPS & GRANTS
---
In addition to grants offered through Financial Aid, many scholarships are available through community organizations and service groups. Check the bulletin board outside of CPTC Financial Aid (Building 17).