Delivering your future
Clover Park Technical College & Amazon

Career Choice is an education benefit that empowers employees to learn new skills for career success at Amazon or elsewhere. We meet individual learners where they are on their education journey through a variety of education and upskilling opportunities including full college tuition, industry certifications designed to lead to in-demand jobs, and foundational skills such as English language proficiency, high school diplomas, and GEDs.
Since its launch in 2012, more than 50,000 Amazon employees have participated globally and earned certificates and degrees through Career Choice that may have otherwise been out of reach. Amazon's tuition assistance program is now available to all hourly employees who have worked at least 90 days with the company.
Clover Park Technical College is a proud partner of Amazon Career Choice.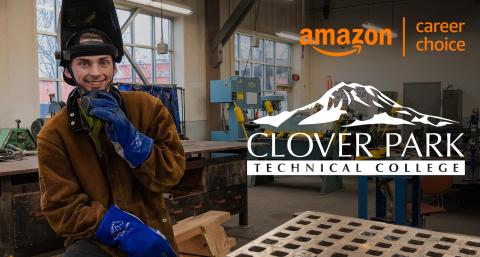 Choose from dozens of career-focused programs
Clover Park offers more than 40 programs and specializations—including bachelor degrees and certificates—that you can complete entirely online, in-person, or a mix of both. Each is backed by the promise of quality education at an institution teaching the region for nearly 80 years. And, at half the price of area universities.
Clover Park offers:
Degrees to enter the workforce
Four-year applied Bachelor's degrees
University transfer degrees
Professional-technical certificates
Personalized instruction
Online, on-campus, hybrid, evening, and weekend classes
Small class sizes
Whether you want to improve your English skills, earn a GED, or take classes toward a bachelor's of applied science, Clover Park has something for just about everyone.