1. New Students Must Apply for Admission to the College
Follow the steps to enroll at Clover Park Technical College and attend info session if required for your program: www.cptc.edu/apply
2. Create a Federal Student Aid ID to sign the FAFSA
You must do this by visiting https://fsaid.ed.gov. The FSA ID allows you to sign the FAFSA or renewal FAFSA online as well as access other Federal Student Aid secure websites. If you are required to provide your parents' information on the FAFSA, one of your parents will also need to create a Federal Student Aid ID.
Click here to view a Department of Education-created video on how to create your FSA ID.
3. Complete One of the Following Applications and Submit it to the Processor
*FAFSA (Free Application for Federal Student Aid) at www.studentaid.gov                                                                                Federal School Code: 015984
*WASFA (Washington Application for State Financial Aid) at www.readysetgrad.org/wasfa
4. Log into CTC Link to view your Tasks and Checklist items
1.    Select the Tasks tile.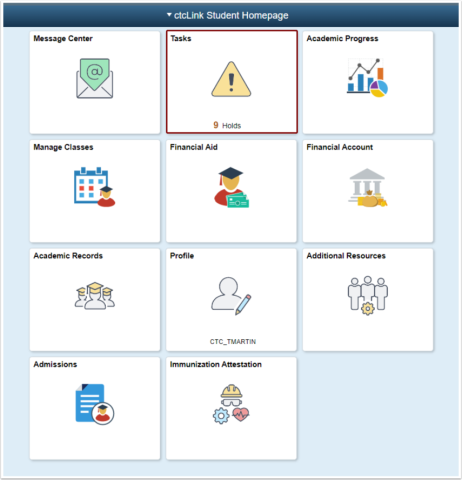 2.    The To Do List page displays.
3.    Select a Task to view its details.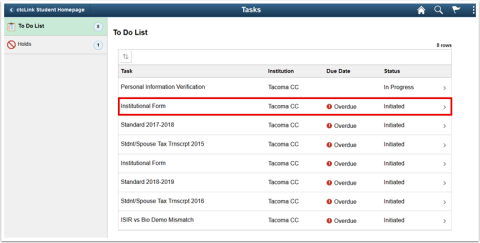 4.    The Task Details page displays.  Review it.
5.    Select the X to close the page.
5. Submit All Additional Required Documentation 
Students must submit all additional required documents outlined in CTC link ( such as Institutional Form, Taxes, W2, Citizenship proof ) to the student aid office in order to complete their files and be in the que for review/awarding.  Incomplete files are not awarded. 
6. Optional Funding*
Complete the Direct Stanford Loan MPN, New Student Entrance Counseling, and Continuing Student Financial Awareness Counseling at: http://www.studentloans.gov
*Required for LPN and RN prerequisites.
Helpful Information about Financial Aid
Students must complete a new FAFSA or WASFA every year. Depending on the time you plan on starting school, you may have to complete more than one FAFSA/WASFA application.
It is important to complete the FAFSA and submit all other required documentation to complete your financial aid file as early in the year as you can. Certain types of grant funds that schools receive are limited. Log in to CTC link to see what additional documents are required. 
The Department of Education does not determine a student's full eligibility for financial aid funds. The FAFSA information is only one piece of determining your financial aid eligibility. The Financial Aid Office uses information from the FAFSA, documentation you submit, admissions information, educational transcript information, and various federal and state databases to determine aid eligibility at Clover Park Technical College.
Once the Financial Aid Office starts reviewing all of the information you have submitted, there is a chance that you may need to clarify information and submit more documentation. During peak processing times, it could take up to three months to review your file. By meeting the posted quarterly deadline dates, it's our commitment to our students that files will be reviewed by the time the quarter starts.
Important Loan Eligibility Information 
LPN/RN prerequisites: The only type of financial aid students are eligible for are Direct Stafford Loans and only for a 12-month consecutive enrollment time frame.
High EFC? You may only be eligible for Direct Stafford Loan. Please check with the financial aid office to see if you qualify for a special circumstance.
Already have a bachelor's degree? You will only be eligible for Direct Stafford Loan funding.
First time attending CPTC or haven't attended in over a year and plan on taking out student loans? You will be required to serve a 30-day waiting period into your first quarter before loan funds can be disbursed.