We provide a number of different ways to pay for your education at CPTC — here are some options.
Financial Aid
If you think you might have difficulty paying for your education at CPTC, we encourage you to apply for financial aid. Our financial aid page will guide you through the process of applying for financial aid.
State Financial Aid for DREAMers is also available.
Financial Aid Announcement 8/10/2022:
Due to the transition to ctcLink, determination of financial aid eligibility for Summer/Fall Quarter students has been delayed.
Students who have applied for financial aid by the posted priority deadlines (Summer: 4/4/2022 and Fall: 6/17/2022) are actively being processed and will have their classes placed on hold to prevent them from being dropped for non-payment. Students may continue attending classes while the Student Aid & Scholarships office reviews their files to determine financial aid eligibility.
Students who did not meet the posted deadlines, which includes submission of any additional requested documents, must plan accordingly to purchase books and required supplies for their classes.
If you are in need of additional resources, please visit our Workforce Development office.
Check out CPTC's other funding options
You can access information about your aid application and financial awards by viewing your financial aid tile in CTC link. Thank you for your patience and understanding as we transition to the new state-wide technology system.
FAFSA
To receive financial aid, you must complete your FAFSA. Visit the Steps to Apply for Financial Aid page for details. 
Grants
The Opportunity Grant allows low-income students to earn up to 45 credits in a high-wage and high-demand job-training program. To get started, please contact the Workforce Development Eligibility Office at 253-589-4311 or visit Building 16, Room 105.
Scholarships
The Clover Park Technical College Foundation provides financial assistance to help meet educational expenses.
Learn More about CPTC Scholarships
Other Scholarships Sources
Tuition Installment Plan (TIP)
The tuition installment plan (TIP) benefits students who are paying out of pocket or waiting for third-party funding and want an alternative to student loans. 
Upon registering for classes, contact our Tuition Installment Plan Specialist, who will personally set up your contracts, payments, and walk you through your plan.
If you set up your plan during early registration, your total tuition and fees will be divided into thirds. Later registration dates may lead to fewer payments (higher amounts). There is a one-time, non-refundable enrollment fee of $25. Late payments are assessed a one-time, non-refundable late fee of $30 per late payment. See full details on the Tuition Installment Plan page.
Military Tuition Assistance, MYCAA, and GoArmy Ed.
Veterans, spouses, and active duty personnel should contact the education officer at JBLM or their current duty station to determine eligibility requirements and to obtain the appropriate funding documentation.
Once this step is complete, the CPTC student accounts representative is available to answer additional questions by appointment in Building 17, Room 103 - Office E, 253-589-5663 or at agencyfunding@cptc.edu.
GI Bill®
Most programs offered by CPTC are fully approved for benefits under the new GI Bill® and the old GI Bill®. Visit our Veterans page to learn more.
GI Bill® is a registered trademark of the U.S. Department of Veterans Affairs (VA). More information about education benefits offered by VA is available at the official U.S. government Web site at https://www.benefits.va.gov/gibill.
Third-Party Payers
Some agencies and employers will make agreements with students to fund part or all of a student's tuition and fees. Funded students must have their agency contract approved and mailed or faxed to the 3rd party Agency Funded Accountant before starting class. If an agency is paying the program admission fee, the student should take their contract to the 3rd party Agency prior to testing.
All 3rd party agency correspondence should be given directly to Amy Timmons – 3rd party Agency Funded Accountant.
Please Contact Amy at
Ph: 253-589-5663
Email: agencyfunding@cptc.edu
By appointment at Bldg. 17 Rm. 103 E.
BFET
Basic Food, Employment, and Training (BFET) provides employment training and services to individuals who receive Basic Food benefits (SNAP) or who are eligible to apply for Basic Food benefits. To get started, please contact the Workforce Development Eligibility Office at 253-589-4311 or visit Building 16, Room 105.
Worker Retraining
The Worker Retraining program may be able to provide financial support to cover the cost of tuition and books for qualified dislocated workers who have received unemployment benefits or Veterans separated honorably from the U.S. Armed Services in the last 24 months. To get started, please contact the Workforce Development Eligibility Office at 253-589-4311 or visit Building 16, Room 105.
WorkFirst Work-Study
Funds may be available to WorkFirst Temporary Assistance for Needy Families (TANF) parents for part-time employment while they are college students. To get started, please contact the Workforce Development Eligibility Office at 253-589-4311 or visit Building 16, Room 105.
PAPERWORK DROP BOX
Drop box is for students to drop off paperwork for financial aid, registration, admissions, and veterans offices. Please do not drop any homework in the slot for your classes.
For your convenience, a drop box is available just outside of Building 17.
Located near the overhang, to the right of the main building entrance, this drop box is secure and accessible 24 hours a day. Contents are picked up daily from a secure location inside the building.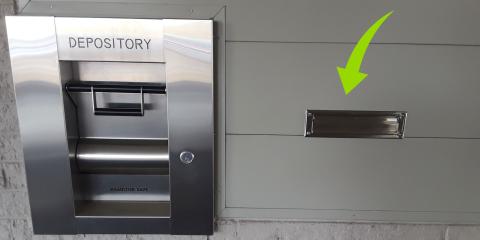 Cashier Office Hours:
See Office Hours at https://www.cptc.edu/hours
Where Do I Pay My Tuition & Fees?
Pay in person at the cashier's office in Building 17 with check, cash, money order, Visa or MasterCard,

Pay by phone with a Visa or Mastercard by calling 253-589-5505