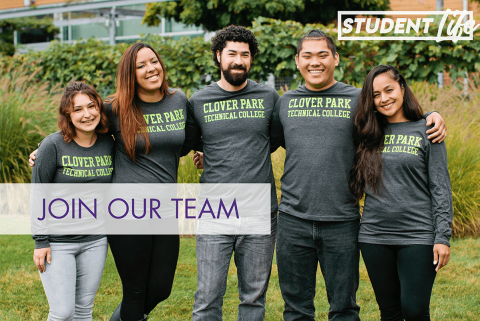 At CPTC, there are a variety of ways that students can get involved on campus.
Supported by the Services and Activities Fees collected from every student's tuition, the Department of Student Life and Associated Student Government (ASG) provide programming, campus organizations, and leadership opportunities to all students. 
Thank you for your interest in joining the Department of Student Life as a student employee!
We are not currently accepting applications at this time. Still interested in getting involved on campus? Contact us at involvement@cptc.edu to learn about student engagement opportunities available to you! 
Student Employment Opportunities
The department in partnership with the Associated Student Government (ASG) is looking to hire service-minded students who are interested in working to build community and connections amongst students, advocate for the needs of students at the local campus and statewide level, and improve the CPTC experience for both current and future students.
Applicants should have experience or interest to learn more about (virtual) engagement, (digital) marketing, and community building efforts across diverse interests and programs. 
Student employee work shifts will be primarily in-person at the Lakewood Campus. Work shifts are flexible and will always be scheduled around a student's class schedule.
Our Hiring Process Explained
Each quarter the Department of Student Life conducts a hiring process to fill a variety of student employment positions. Prospective employees who submit an application may be invited to participate in an information session prior to participating in an interview with the hiring committee; made up of students and staff advisors.
Applicants that are selected by the hiring committee to move forward will be invited to attend an orientation to learn more about the onboarding process of the department and what to expect moving forward. We have found that over the years, that it is difficult to determine "best fit" for a position/team with just an application and 15-minute interview.
By deciding position placement towards the end of the onboarding/training process (which is paid), the department has a higher success rate of placing students into leadership development positions where they can be the most successful.