Why Choose the Pharmacy Technician Program?
Pharmacy technicians play a vital role in the health care process, ordering and stocking medications, preparing intravenous drugs, processing prescriptions, preparing billing and operating and troubleshooting automated drug-dispensing systems. In fact, as pharmacists are starting to move more into the clinical aspect, pharmacy technicians are taking on more and more responsibility.
Our Pharmacy Technician program offers hands-on training in the classroom and laboratory and three months of on-the-job training. This gives graduates a great head start in getting their foot in the door and the training they need to be ready for their career. Employers look for graduates who have trained in the technician duties and responsibilities under the guidelines of the American Society of Health-System Pharmacists and the Accreditation Council for Pharmacy Education, which govern the curriculum and standards of our program.
Career options include working in retail pharmacies, hospital pharmacies, long-term care, jails, and compounding pharmacies. If you have an interest in medicine and a great attention to detail, this program and career path might be the perfect fit for you.
Meet Your Instructors
Trisha Autry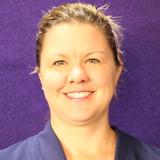 Trisha graduated from an ASHP accredited program in 1995 and has worked as a pharmacy technician in a hospital, a retail setting and a nursing home. She's been an instructor in CPTC's Pharmacy Technician Program since 2000.
Bldg 21, Rm 226
253-589-6081
trisha.autry@cptc.edu
---
Jillian Lalli
Bldg 21, Rm 200
253-589-5563
jillian.lalli@cptc.edu
Janice Benson
Building 21 Room 202
253-589-5563
Janice.Benson@cptc.edu