Why Choose the Esthetic Sciences Program?
Esthetic Sciences is a field devoted to health and beauty. Specialists provide clients with specialized skin care treatments and recommendations, and that requires a tremendous level of knowledge, as well as a positive and engaging personality and devoted work ethic.
Esthetic Sciences students work with each other in class and real-world patients in CPTC's student-operated Esthetics Salon, offering the opportunity to see and treat a diverse set of skin types, preparing for careers in spas, salons, medical offices, medi-spas, and dermatology and plastic surgery offices.
This award-winning program ranks among the top in the state for its training, hands-on learning opportunities and one of the highest pass rates at state boards. If you have a passion for health and beauty and a strong work ethic, consider esthetic sciences.
In our Esthetic Sciences Program you'll get hands-on training with live models and professional clientele. Our program can prepare you to work in spas, salons, medical offices, medi-spas, and dermatology and plastic surgery offices.
How Long It Takes:
Esthetic Sciences AAT Degree: 4 quarters
All program lengths are estimates and are not guarantees.
Meet Your Instructors
Renee Fermin
Bldg 2, Rm 317
renee.fermin@cptc.edu
---
Tracy Lundell
Bldg 2, Rm 104
253-589-5737
tracy.lundell@cptc.edu
---
Melissa Siedlicki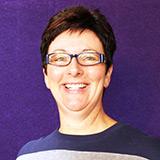 Melissa graduated from CPTC's Esthetic Sciences Program in 1987, the Esthetics Instructor Cadet Training in 1994, and the Cosmetology program in 1998 and started teaching at CPTC in 1998. She's also a CIDESCO international diplomat and was one of the key members of the group that worked on the esthetics-licensing law that passed in May 2013.
Bldg 8, Rm 323
253-589-5748
melissa.siedlicki@cptc.edu
---
Karlee Sorensen 
Bldg 8, Rm 323
253-589-5736
karlee.sorensen@cptc.edu
---
Jennifer Whipple 
Bldg 8, Rm 317
253-589-5883
jennifer.whipple@cptc.edu
Esthetic Sciences Program Information Sessions usually occur at 3 p.m. on the second and fourth Wednesday of the month.
To learn more about information sessions, visit cptc.edu/info-sessions. 
Visit the CPTC Calendar at cptc.edu/calendar to see when the next information session is scheduled.