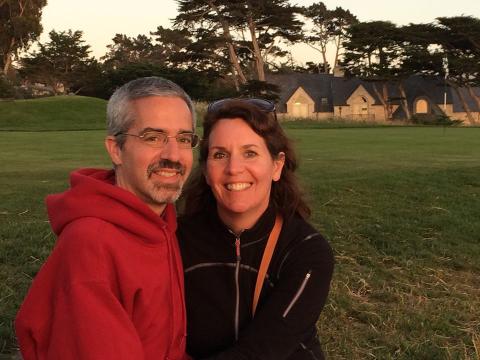 The Clover Park Technical College community was devastated to hear about the sudden passing of Andy and Jody Fritz in a bus accident in Mexico on Dec. 19. Andy was a friend, colleague, and mentor to many students, faculty, and staff. We'll always remember his dedication to student learning, support for our college's technical education mission, commitment to the environment, and love for running.
Andy meant so much to all of us here at Clover Park, Here are some of our thoughts or stories about Andy.
---
Andy went out on a limb for me, not knowing who I was and still taking a chance to let me in his class even after missing the first three
days of the quarter, he would stay late to help me catch up and always was there as a shoulder to lean on. He let me be a work-study for him and earn money as a single father and a student. Andy Fritz loved his students and always went the extra mile to see us succeed. Andy will forever be missed, for his teachings, advocacy and care he showed us students and his community.
-Shawn Durnen
---
I was blessed to know Andy. He was an outstanding professor at Clover Park Technical College who taught Environmental Sciences. My condolences to his family, friends, and all who knew Andy Fritz. He was a great teacher, friend, and mentor. He passed on his passion for science, the environment, running, and nature. He has left a profound, lasting impact with his students and all he met, making the world a better place! He is missed by many.
-Luke Straling
---
It is difficult to put into words the impact Andy has had in my life. It is unfortunate that it took this tragedy for me to identify the joy that he brought each time I saw him on campus. Without even saying a word, he brought a smile to my face every single time. You are, and will always be, missed.
-Michele Jones
---
I met Andy at an information session for the Environmental Science program, and he would have been my instructor for the next three quarters. He was an amazing person, and I was so excited for this program. Even though I had not been in his class yet, he always remembered my name. He will be missed dearly. My thoughts and prayers are with his family and friends.
-Shila Newman
---
The loss of Andy and Jody Fritz will be felt by the community for a long time. As a student who admired Andy as a mentor and friend, this loss is devastating. There are few words that can truly express the influence Andy had on his peers. Even though he tended to keep to himself, he had a love for seeing others succeed and sharing his knowledge with staff and students alike.
My life changed the day I first sat in Andy's class. The impact of his lessons was profound: he was honest and kind and gave us everything we needed to find the answers. We shared in his passion for the environment. Some of my favorite places to escape to today were discovered on his assigned field trips. I found inspiration in Andy's classes and credit both Kathy and Andy for showing me a path to a new and better life. He was on vacation with his wife, traveling to see some Mayan ruins, as I understand it. That sounds exactly like something Andy would do for a holiday: go somewhere fun and see some cool stuff with his wife. I wish I'd had the opportunity to meet her. My heart grieves for them both, and I pray his family finds peace in the midst of tragedy.
-Alicia Woodward
---
Andy was very supportive of his students and his colleagues. I will miss his sense of humor and friendly waves as we passed each other on campus. He was an extraordinary human being and his students and colleagues have suffered a great loss. Rest in peace together, Andy and Jody.
-Wendy Joseph
---
Andy was such an amazing instructor but an even better human. It's shocking and heartbreaking seeing the news. I cherished all of the field trips and long classes that we had with Andy. He always pushed me to dig deeper in my studies. He was so kind and always eager to check up on his students. I credit so much of my success thus far to him and his lessons. Thank you, Andy, for all you've done for me, as well as the learning community at Clover Park. He will be incredibly missed. May he rest in peace.
-Rachel Petersen
---
Andy! Why you? I remember the last week of the quarter, your excitement for vacationing with your wife. I remember when you came in ecstatic about your new house on the canal and the day you came in with picture of the first seal you had seen sitting on your dock. The running shirts from all your competitions, it's as if you owned no other clothing. Your cheesy 'dad' jokes that made me laugh then shake my head. Your frustration with me for not completing the program because I was able to save myself a quarter of tuition by transferring early. The last year-and-a-half I had with you and Kathy was memorable and amazing. You had an impact on my life I will never forget. Thanks for being you, a genuine, caring, rad individual. Rest in peace ARF and Jody.
-Justin Cross
---
I was so excited to have Andy as my instructor this winter quarter. I printed out my syllabus and read it over and over, imagining the questions I'd be asking him. May he and Jody's family, both kith and kin, celebrate the legacy these two created.
-Marcia Wilson
---
I enjoyed talking running with Andy. He had a genuine excitement about physical activity, and it showed. He also enjoyed being in the field with students and encouraged me to walk over and check out their "lab." His joy in teaching and being in the outdoors was evident and influenced many students and staff. Andy was also incredibly nice and humble. You will be deeply missed!
-Dean Kelly
---
As the former college president, I know first-hand that CPTC has amazing faculty and staff. And Andy Fritz was no exception. Beyond his wonderful personality, my fondest memory of him is how much he genuinely cared about his students, often making time for them outside the classroom. I, too, am saddened to hear about the loss of Jody. My deepest condolences to CPTC and the Fritz family.
-Lonnie L. Howard
---
My fondest memories of Andy, my friend and colleague, began in the spring of 1997. We were both hired at Clover Park as faculty members on the same day and met in human resources. On that day, we talked about our prior experience teaching students and being new to teaching. We were both nervous and so glad to have someone to talk with as we completed all the paperwork.
From that first meeting, Andy and I vowed that we would stay in contact with each other throughout the whole tenure process and support each other as new faculty. We both kept that promise and assisted one another for three years. Andy Fritz, my friend and colleague, will always be remembered for his warm smile, love of the environment, calm spirit and commitment as an educator to Clover Park.
Rest in peace, Andy, and blessings to the Fritz family during this time of loss!
-LaRita Montgomery-Mandley
---
I only had Andy for a quarter, but my experience in his class was awesome. When I first enrolled, I had to drop due to financial issues. I was really bummed that I couldn't stay, but he encouraged me to come back. When he saw me in the halls the following quarter, his genuine excitement that I was back was the moment I knew I was supposed to be there. My heart breaks for his and his wife's family and for the students who were lucky to have had more time in his class.
-Aiden Vanderford
---
The first thing I think of when I think of Andy is Rachel Carson's "Silent Spring:" "The obligation to endure gives us the right to know." The second thing I think of when I think of Andy is being in a group of students outside the back door of the classroom, tossing bits of a substance in a water-filled four-liter beaker. There were little flames and smoke until someone threw a chunk in. The beaker exploded, spewing glass and water. Andy made Rachel's point.
-Susan Penhale
---
I had the privilege of Andy's instruction from 2006-09. He was genuine and very instrumental in my success graduating. Heaven has acquired a gem, and his wife must have been, too.
-Jennifer Keesy
---
Of all the teachers and instructors I have had in my life, Andy Fritz was the one I always will remember and miss. The first day of class I was walking into the environmental chemistry class, I tripped over nothing and hit the ground. That was the first day of many that led to Andy writing my name in black permanent marker on the emergency kit in the classroom, because at least once a day I needed something in it. And in all his years of teaching, I was the only person he would feel the need to have the kit with him at all times for. I remember walking with the class in the wetland area across from the college and Andy yelling, "Wait, we need Krista's first aid kit," and then running back to get it and him telling me to try not to fall in the stream because the kit isn't that big. I fell anyways, and my hip waiters filled with water and I couldn't get up. Andy, of course, helped after taking pictures and video of me stuck in the water. Every day was fun in his class, and he was always happy to teach you something in a way that kept you interested, even if it wasn't always a good idea, like throwing some pure Potassium into a pool of water because someone said they had never seen it done before and causing a huge mess, or telling me at my wedding not to fall when walking down the aisle because he didn't bring the first aid kit :).
There are so many memories I have to carry with me and look back on and smile and realize that my love for science grew so much just because I knew Andy and was lucky enough to be his student and then friend. I will miss you, Andy, and the world will be a sad place to have lost you.
-Krista Judge
---
The personal loss of Andy and his wife is difficult to deal with. Their passing so tragically at this time of year is so very hard. Still, despite our great loss and our deep sadness, my belief is that Andy and Jody are still with us, but also in another place of eternal peace and happiness. Andy was my instructor for my environmental degree. The way he imparted learning concepts and skills was special in so many ways. Field trips were like trips to the candy store. As my mentor, his advice as I started an environmental restoration business was priceless. As my colleague and fellow environmental instructor, he made himself available to answer my questions, help me with logistics, and suggest solutions to problems. When I had new ideas or thoughts, Andy was a terrific sounding board who often interjected reality into matters. Above all, Andy is a dear and trusted friend, and a special person.
I will miss him greatly as I begin class sessions this next year. But I will hold him close as one of those very rare, special people we all meet as we live our lives. My tribute to Andy is to live my life with a smile, a laugh, and a word of friendship for others. I look forward to seeing Andy again someday in another place of eternal peace and happiness.
-Christian Goodman
---
Andy taught across the hall from me in Building 16. He had an enormous impact on the lives of his students. We used to chat in the hall and at the copy machine. He always said hello, good morning, or passed you with a smile. He was a great hall buddy!!! I will miss him.
-Bekki Haggerty
---
I'm so sorry for your loss and the loss to everybody. Andy was a wonderful teacher, a great mentor and a fabulous friend, always laughing. He had the ability to deal with big things and make them seem not so big, just chugging away. I really enjoyed my time as a student. I'm so sorry. He will be missed.
-Jennifer Vasquez
---
My daughter was a student of Andy's, and that was only on paper. He was also her friend and mentor. When she suddenly changed her degree from computers to environmental studies, I wasn't sure about what was going to happen. She blossomed and has grown in such knowledge, and I believe Andy was the pinnacle of her growth and love of education. He made it a joy for her to learn, and this is only coming from a mother that watched her child's metamorphosis. I have always been grateful that Andy entered my daughter's life. He encouraged her and prayed for her. What a gracious man. Thank you, Andy, thank you. May you run with angels. Rest in peace.
-Gina Comer
---
Andy was my sounding board for two-and-a-half years in Student Council. He was the reason I stuck it out. He reminded me that I was there for students and not for myself. He also reminded me about the importance of self care, which in my world looks like hiking and climbing. He listened when I began working non-profit, and he listened last week when he learned of my plans to start my own non-profit. My grandfather used to say if you can count close friends on one hand you were extremely lucky. I don't know about that, but I do know this: every time I needed to talk something out, you meandered around and gave me the sound advice that I needed. Andy, you made a difference to everyone you met, and nothing on earth is higher than that. Godspeed, sweet dreams.
-Linda Rick
---
This is such a loss to CPTC and to all who knew Andy. He was the kindest, most genuine person, and I will really miss him. Each and every time I asked for his help, he said yes! That's a whole lot of years of committee work. Godspeed, Andy and Jody!
"This world may bring deep darkness, but we are the bearers of light. We'll join our flames together, and shine in the blackest of nights." (John Mark Green)
-Lisa Beach
---
I remember Andy as someone who I considered both an instructor and a good friend. He was someone who went above and beyond the call of duty for his students. Andy was passionate about his work and the environment, and part of his legacy will live on through those he educated over the years. I am truly grateful to have had the opportunity to know him. My thoughts are with his family.
-Chris Benston
---
You'll be forever missed, Andy. You were truly the greatest, most inspiring and encouraging teacher I've ever had. You really made learning fun, and in a way made academics as interesting as hands-on out in the field. You're the reason I aced general chemistry and organic chemistry. I'll always remember enjoying hearing about the marathons you'd run on the weekends. You were such a gentle and kind person to everyone fortunate enough to know you. Thank you, Andy, and may you and your wife Jody rest in peace. God sure got a real pair of angels in you both. P.S. I still use my famous plant book from your class a few years back. Always remembering talking about "Quozes," you made us all laugh as much as you made us think. We learned a lot from you, and I'll never forget you.
-Ray Swift
---
Andy was awesome. He was kind, helpful, fun and easy to talk to. My absolute favorite class out of the environmental program was the one with the plants and wetland stuff. It's been a while, so I don't remember the name of it. I was absolutely stunned when I found out what happened. I'll miss you, Andy. You were one of the few teachers that made me look forward to coming to class. Rest in peace.
-Kahly Radcliffe
---
Andy was a great instructor. Even before I joined his class, I heard from other students how great his class was; they talked a lot about him. I attended his last class, and he really worked to make it an enjoyable experience. My memory of Andy was his curiosity. Every once in a while someone would bring up a word, and Andy would be curious about it. He would often break out this big, beat up, old dictionary to look up its origin. The great thing about Andy was watching him learn something new, as we would often learn the answer to a question together. Another great memory was attending the Puyallup Watershed Council's Science Symposium with him. Getting to sit in and learn about conservation and restoration efforts first-hand was a great experience, along with the chance to meet people in the field. During this last one, my fellow students and I had the chance to sit and chat with Andy during breaks and lunch. We talked about how good our boxed lunches were and how much of the data in one of the presentations just flew over our heads.
It's still hard to believe since I saw him just last week. He shook my hand and congratulated me for my graduation, telling me to keep in touch. I, and undoubtedly a lot of other people, will miss Andy.
-Douglas Chamberlin
---
Andy had a passion for the environment and how each and every plant and animal fit into it. He succeeded in impressing that on his students while educating and inspiring us to see how one intricate detail affects so many others. Many students in his classes came from diverse backgrounds and had different levels of education, yet he treated all of us with respect and truly cared for us. I have such fond memories of field trips, slogging through the wetland, identifying plants and animals, picking morels and chanterelles, and doing restoration projects. He helped me fast-track my education into one year, all while allowing me to take on special projects with tribal fisheries. I was privileged to not only have Andy as my teacher, but also to count him as a friend. His influence lives on in so many lives that he touched.
-Jeremy Knowlton
---
I was so saddened to hear of the loss of Andy. He was a wonderful person, and I had the pleasure of being in his course. My favorite thought that makes me smile was when he would trudge up the middle of a creek. I'm not sure if we had to go up the middle of the creek, but he made it fun. His knowledge and passion for the environment... My heart goes out to his family for the loss of him and his wife.
-Cynthia Dillon
---
When I was employed in CPTC's College Relations office, I was in contact with Andy often to collaborate on creative ways to highlight the hands-on learning that happened in Environmental Sciences & Technology and success stories of graduates of the program. He was very passionate about his program and his students. As I got to know Andy more and hear his own unique story of his love for running and marathons (his collection of race bibs is impressive!), I felt it was a story the community would appreciate and was happy when The Olympian highlighted his prolific running accomplishments. The college and outside community got to know Andy as more than an instructor, and it might have served as an encouragement to others, as it was to me.
-Somer Hanson
---
I just graduated from the ES&T program this past Wednesday, and am still trying to comprehend the depth of this loss. I am just heartbroken. I was never able to meet Andy's wife Jody, but she was clearly the center of his life, and she no doubt was the reason why Andy was such a good guy. I want to say that every day in class with Andy was a story in and of itself, but the real adventures were the memorable field trips, and we had many of those!
The one thing I want people to take away from my comments is that it was a unique honor and privilege for me to be one of Andy's students. I will always remember him for his keen intellect, thoughtful kindness, and deep sense of human decency. I spoke with one of my fellow graduates last night, and he said he felt as if he wanted to move forward using the knowledge Andy gave us to pay tribute to Andy's memory, to "pay it forward." I can think of no better way to honor Andy's memory and his work for the betterment of our planet. To the family that has been left to deal with such a sudden and overwhelming loss, please know how dearly Andy was thought of by all of us in the program, and how much value he brought into our lives. I will remember him all my days. I want to share this biblical passage. It has given me powerful comfort in times of personal tragedy. Joshua 1:9 - "Have I not commanded you? Be strong and courageous. Do not be afraid; do not be discouraged, for the Lord your God will be with you wherever you go."
From my heart to yours, Bless you.
-Kevin Hall
---
I've had the opportunity to work with Andy on a number of projects, but I have a specific memory that really sticks out to me. Two years ago I accompanied our then college president to surprise a student in Andy's class with the CPTC Presidential Scholarship. While everyone in the room was smiling, Andy had the brightest smile of all. He wasn't receiving any money that day. It wasn't his award, but it was something better. He was smiling brightly because his student was receiving much-needed scholarship funding to continue their education. That was what Andy loved - seeing students succeed.
-Tawny Dotson
---